Mall Information
Sangertown Square is easy to reach from all directions.

From the NYS Thruway Exit 31: Take 12 South into New Hartford, and bear right onto Route 5 West. Sangertown Square is on the right.
From the NYS Thruway Exit 32: Follow 233 South, then take left onto Route 5 East into New Hartford. Sangertown Square is on the left.
Welcome to Sangertown Square
Welcome to Sangertown Square, the Mohawk Valley's only enclosed shopping center. At Sangertown Square you'll find an impressive selection of retail stores, services and restaurants to make your shopping experience a truly exceptional one!
Location
Sangertown Square enjoys a superior location in Oneida County, the geographic center of New York State. Located in the town of New Hartford, Sangertown lies at the foothills of the nationally reknowned 6 million acre Adirondack Park. Our center is located at the intersection of Routes 5 and 5A, and is easily accessible from New York State Routes 8, 12 and the New York State Thruway.

Customer Service
For our physically challenged customers, Sangertown Square provides handicapped accessible restrooms, automatic doors and many parking lot spaces.
Wheelchairs

- Complimentary wheelchairs are available at the mall office Monday - Friday 9am - 5pm. If you need a wheelchair at any other time, please call Sangertown Security at 797-8545.

Gift Cards

- From January through mid November Pyramid Gift Cards may be purchased at the mall management office Monday through Friday from 9am - 5pm. Gift cards are also available for purchase online anytime.
Security
Our friendly and knowledgeable staff is present seven days a week, providing you with a safe and pleasant shopping experience. The New Hartford Police Department also has their own substation at the mall. Police officers can be seen frequently throughout the mall often providing educational information on public safety.
Mall Walkers
Walking has quickly become America's most popular form of exercise because it is safe, simple and inexpensive. Almost anyone can walk, regardless of age, lifestyle or physical condition. A regular program of brisk walking is beneficial in preventing or managing health problems. Join your friends and neighbors at Sangertown Square for healthful walking at your own pace in climate controlled comfort. Exercise by walking a measured course before stores open (7 am – 10:00 am Monday through Saturday; 7 am – 11 am Sunday) and at your convenience. You can increase your fitness in the company of your friends.
1 trip around the mall, passing all the stores = .8 mile (please see mall directory link on site for a map of the mall)
Community
Non-profit organizations are invited to host their events and fundraising efforts at the mall. Call the Mall Office to schedule your event or to request additional information.
Events
Having An Event?
If you are interested in having an event at Sangertown Square, please e-mail [email protected] or call (315) 797-8520 x 217. Please include the following information in your e-mail:
Name
Company Name
Address
Phone Number and Fax Number
Event Description
Date Preference
Information regarding how to hold an event at Sangertown Square will be mailed to you within 3 business days after we receive your request.
Thank you for your interest in Sangertown Square!
Mall Policies: Sangertown Square Code of Conduct
Pyramid Management Group
Behavior Code
In order to provide an enjoyable shopping environment, and for the safety and convenience of our shoppers, visitors and employees, the following Behavior Code will be in effect at all times for all guests and visitors of the shopping center. Anyone who violates the behavior code may be banned from the property and/or prosecuted to the fullest extent of the law. Mall management has the right to amend the behavior code at any time.
Download our Behavior Code (PDF)
Sangertown Square is Open for the Purpose of Shopping
Appropriate behavior is required at all times. Fighting, horseplay, harassment, offensive language, shouting, loud noise, littering, solicitation, or any illegal activities are not allowed on mall property. Mall management has the right to prohibit groups from congregating or walking in a manner that obstructs or hinders shoppers or mall visitors.
Safe and Convenient Shopping
Pets are not allowed on the premises except for service animals that aid the physically challenged. Exceptions may be made for pets being taken to pet stores or photography sessions.
Please Walk
For your safety and the safety of our customers you may not run, skate or use a skateboard on mall property. You may not ride bicycles on sidewalks or in the interior of the mall.
Please Dress Appropriately
To promote the shopping center atmosphere, customers, guests and employees shall be fully clothed. The wearing of apparel which is likely to provoke a disturbance or embroil other groups or the general public in open conflict is prohibited.
No Weapons Allowed
The possession of any weapon, unless authorized by local, state, or federal statue, is prohibited.
Smoking and Alcohol
Sangertown Square is a smoke free facility. The consumption of alcohol is permitted in licensed premises only.
Parking is for Guests and Visitors
The parking area is private property and is intended for the use of mall guests, visitors and employees. Vehicles must be parked in legal designated spaces. Violators are subject to tickets and/or towing. Unauthorized overnight parking is not permitted and is also subject to towing.
We Support Education
In accordance with school attendance laws, and in support of education, children of 6 to 16 years of age are not permitted on mall property during school hours, unless accompanied by a parent or legal guardian.
Have a pleasant shopping experience!
ADA accessible entrances are identified below and ample parking is available throughout the site. Thank you for shopping at Sangertown Square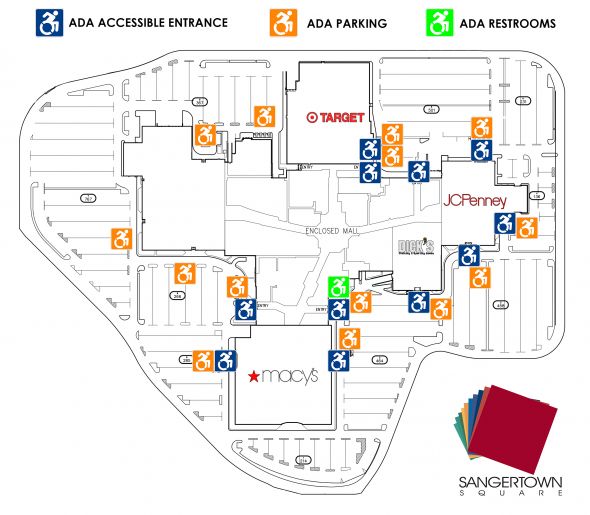 In addition, please visit our anchor stores for family style and handicap accessible restrooms.
Mall Information
Hours
Mon-Sat | 10am - 9:30pm
Sunday | 11am - 6pm