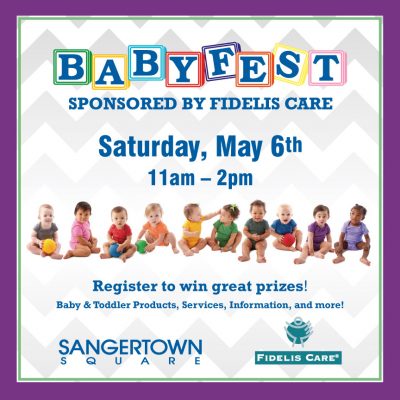 Sangertown Square will host its 4th Annual Baby Fest on Saturday, May 6th from 11am until 2pm.
Baby Fest, sponsored by Fidelis Care, will have everything parents and expectant parents want or need including baby and toddler clothes, products, services, health information and more.
Big Frog 104 will be on hand with Jeremiah B. Frog to meet with the kids from 11am until 1pm. Visitors can register for prizes while attending this free event throughout the mall. Oneida County Sheriffs will be creating child I.Ds throughout the event.
Interested in being a vendor? For more information about the event and your opportunity to take part in it, please call 315-797-8520 ext.1 Monday through Friday from 9am – 5pm.
Vendors:
Best Buy Mobile
Boscov's
Cajun Café
China Express
Claire's
H&M
JC Penney Portrait Studio
Macy's
Mr. Smoothie
The Treehouse Reading & Arts Center
Keep checking back as we will keep adding vendors!