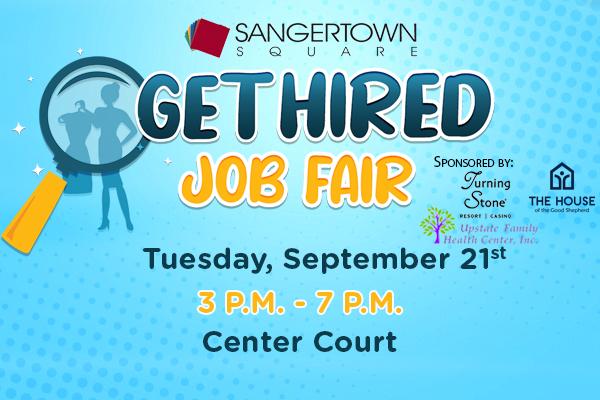 The Sangertown Square Get Hired Job Fair Sponsored by Upstate Family Heath Center, The House of the Good Shepherd, and Turning Stone Resort Casino is happening Tuesday, September 21st from 3 p.m. to 7 p.m. in Center Court. Employers will be able to interview and hire local employees, while job seekers connect with businesses who are in need of their skills. Employers from a variety of industries will be in attendance looking for candidates of all skill levels. This job fair is in-person and FREE to job seekers!
Participating  Employers:
Americanstar Transport
The Arc, Oneida Lewis Chapter
Blue Sox Academy
Boscov's
The Children's Place
CINTAS
Dick's Sporting Goods
Game Craze
Giotto Enterprises
HomeGoods
Foot Locker
HP Hood
Indium Corp.
Kay Jewelers
Mohawk Valley Health System
PiNZ
Resource Center for Independent Living (RCIL)
Sitrin Health
The Smoothie Bar
Target
Turning Stone Resort Casino
United Healthcare
United States Postal Service
Upstate Cerebral Palsy
Upstate Family Health Center
Vernon Downs Casino Hotel
The Women in Apprenticeship and Nontraditional Occupations (WANTO)
Yankee Candle
*Participating stores will be accepting applications in-store or online.
Print out job fair directory.
If you're looking to get vaccinated for COVID-19, Upstate Family Health Center will be hosting a pop-up clinic during the Get Hired Job Fair.
Employers interested in participating in the upcoming job fair should contact Tom Kennedy, Advertising Representative for Sangertown Square, at 315.410.6643 or [email protected].