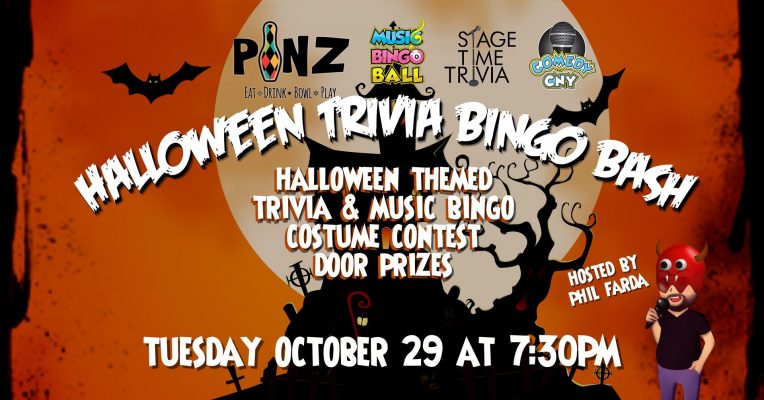 A COMEDY CNY SPECIAL EVENT: PiNZ monthly trivia themed special event is happening Tuesday, October 29 at 7:30PM! We're transforming our weekly trivia night into the spookiest Halloween trivia+bingo mash up for one night only!
WHAT YOU CAN EXPECT:
• A super special Halloween edition of trivia that will be monster-mashed up with the debut of our Singo Music Bingo Ball! You'll need to sharpen up on your knowledge of Halloween +monster +spooky +scary songs because we'll be playing rounds of Halloween themed music bingo with a "name that tune" twist!
• DOOR PRIZES: Every player will receive a ticket for a door prizes that we will be drawing throughout the night!
• COSTUMES are not required but are ENCOURAGED as we will have a slew of bonus prizes for our favorite costumes throughout the night, as decided by the creepiest trivia host around: Comedy CNY's own Phil Farda!
You can still mow down on $1.50 tacos, enjoy half price games, and awesome HAPPY HOUR specials leading into trivia!
This is a FREE SPECIAL EVENT! Seating is limited for this event and teams are encouraged to RSVP for FREE online!
An optional VIP upgrade is available for $10 per team if you would like your entire team to receive DOUBLE door prizes and DOUBLE bingo cards for each player!