Families are invited to visit and share their wish lists with Santa Claus this holiday season! Santa arrives at his winter wonderland in Center Court on December 1st and will be there daily until Christmas Eve, Saturday, December 24th.
Reservations are strongly encouraged for all guests, with walk-up visits available as space allows throughout the day.
Hours:
Monday – Saturday:  11am – 2pm  & 3pm – 7pm
Sunday: 12pm – 2:30pm & 3pm – 6pm
Christmas Eve, December 24th: 10am – 1pm & 2pm – 4pm
Don't want to wait in line? Sign up and schedule your Santa magic moment by making reservations here!
Photo Pricing: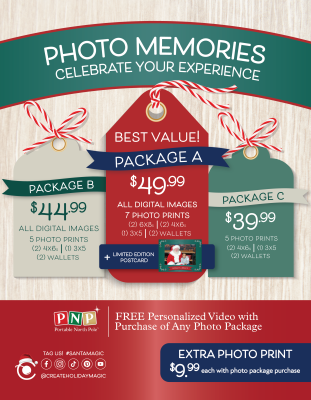 Package A: $49.99
All Digital Images
7 Photo Prints – (2) 6x8s, (2) 4x6s, (1)3×5, & (2) wallets
Package B: $44.99
All Digital Images
5 Photo Prints – (2) 4x6s, (1) 3×5, & (2) wallets
Package C: $39.99
5 Photo Prints – (2) 4x6s, (1) 3x5s & (2) wallets
Special Santa Events:
Thursday, December 1st
Santa's Wonderland Party
5pm – 7pm
Visit Santa, get your face painted by an elf and enjoy holiday music!
Sunday, December 4th
Santa Cares: A Sensory Friendly Event
9:30am – 10:30am
More Santa Cares information here.
Monday, December 12th
Santa Pet Night
5pm – 7pm
For more party information visit here.