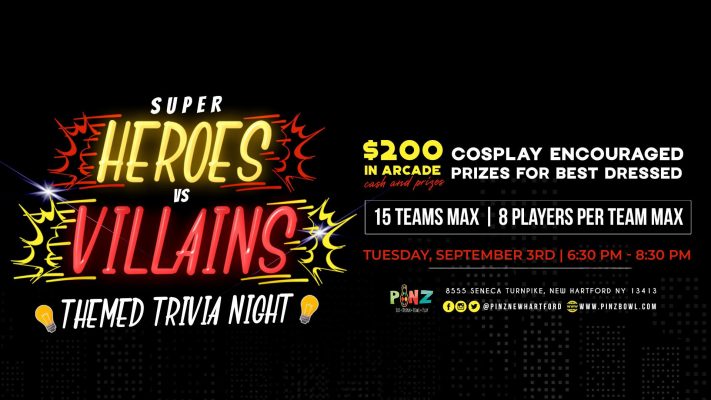 The first Tuesday of every month is an exclusive THEMED TRIVIA night at PiNZ! The follow up to our debut 90's Night is Super Heroes & Villains sponsored by New Hartford's comic book and collectibles destination Ravenswood Comics-Cards & Games!
We will cover a broad rage of superhero and villains knowledge! Everything from DC, to Marvel, to cartoons, to video games, and even real life! Cosplay is encouraged to maximize the fun and prizes will be given out for best costumes! So come dressed as your favorite super hero, or your most feared villain!
Prizes include $200 in PiNZ giveaways, plus exclusive prize basket(s) and giveaways from Ravenswood! The event will be hosted by Phil Farda.
PLEASE NOTE: $10 team registration is NOT REQUIRED. We offer this option as a way to ensure entry for events that are likely to fill up/sell out. For your registration fee you will have a guaranteed spot the night of the event, plus your team will start with +10 bonus points! If you'd like to play for FREE, just arrive the night of the event and register with your trivia host in person.