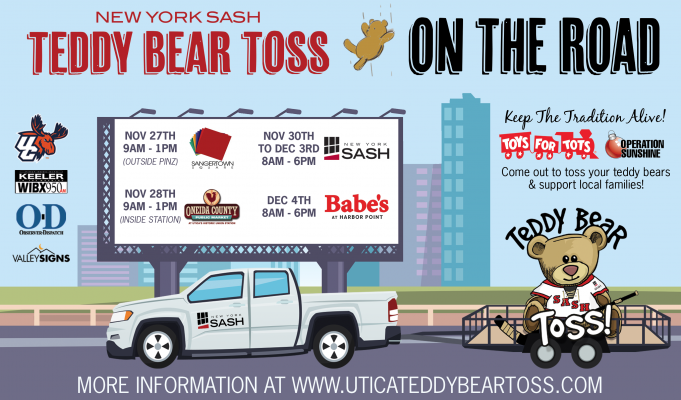 Keep the tradition alive and support the 2020 New York Sash Teddy Bear Toss – On the Road!
For the past 15 years the Teddy Bear Toss hockey game and toy drive has been a family-favorite holiday event. This year things look a little different, and now more than ever your support is needed. New York Sash and Sangertown Square have teamed up to bring the Teddy Bear Toss into the community with a mobile donation rink! On November 27th from 9am – 1pm the mobile rink will be in the Sangertown Square parking lot in front of PiNZ.
Everyone is welcome to come out and toss in your bears and support a good cause. Remember, all stuffed animals must be new! The toy drive supports Toys for Tots and Operation Sunshine, in partnership with Utica College Pioneers, Keeler in the MOrning on WIBX, and the Observer-Dispatch. Special thanks to Valley Signs.
Thousands of children in the Mohawk Valley will be looking for a teddy bear under their Christmas Tree this year. Help keep the tradition alive with the 2020 New York Sash Teddy Bear Toss, on the road!
More details  and locations available at www.uticateddybeartoss.com