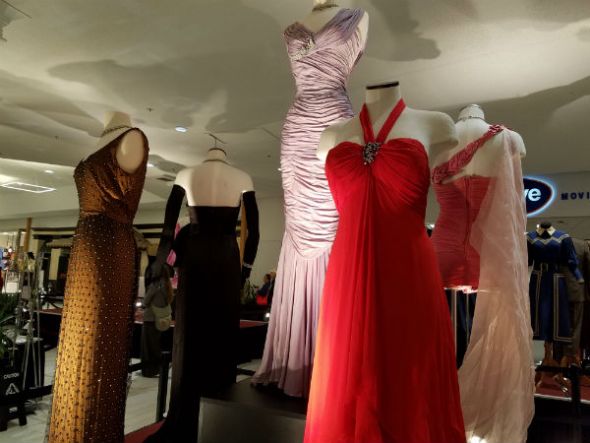 Hollywood Costume Collection Premieres at Boscov's
Gene London: The Glamour of Hollywood and the History of Fashion
An exciting show and exhibition from his Red Carpet Fashion Events and His Traveling Fashion Museum (Saturday, October 23 through Saturday, October 29)
Boscov's Mall Entrance
Gene London Fashion Show Presentation
Sunday, October 23 at 1pm and 4pm
Monday, October 24 through Friday, October 28 at 2pm and 7pm
Saturday, October 29 at 4pm and 7pm
Boscov's Community Auditorium
The Gene London Costume Collection opens exclusively at Boscov's and features dozens and dozens of legendary costumes worn by the most beloved icons of the silver screen. Some of the most important Hollywood designers who gave the stars their signature looks will be represented in this dazzling exhibition, including Adrian, Edith Head, Elsa Schiaparelli, Bob Mackie and many more.
For one week only, Mohawk Valley residents have an opportunity to hear behind-the-scenes stories of Hollywood's Golden Age and get a close-up view of the cinematic treasures as Gene London's Traveling Fashion Museum makes a stop at the new Boscov's Department Store in New Hartford, NY.
The exhibit, sponsored by Boscov's, features costumes worn by Marilyn Monroe, Grace Kelly, Audrey Hepburn, Fred Astaire, Ginger Rogers, Joan Crawford, Bette Davis, Greta Garbo, Elizabeth Taylor and many others as well as important pieces with significance to the Mohawk Valley.
Drums Along the Mohawk was legendary director John Ford's first technicolor feature. The costumes worn by Henry Fonda and Claudette Colbert as early pioneer settlers are included in the exhibition, as well as a rare costume worn by Heath Leger in The Patriot, a film about the American Revolution.
Well versed in the magic of story-telling, Gene London was the popular host of his own children's television show for three decades in Philadelphia, where he met many movie stars when they would visit his program. Hollywood legend Joan Crawford took a liking to the young host, sending him wardrobe from her films, which began a lifetime obsession as London amassed a collection of over 60,000 historical garments and Hollywood costumes. He added, "The Golden Age of Hollywood touched movie goers the world over and gave us a magic place where dreams come true. The stars were memorable, as were the beautiful costumes they wore. I am thrilled to share my collection with you to enjoy."
A recognized expert on fashion and film history, London travels the globe showcasing his costume collection. His attractions have played throughout the US and in Japan, Russia, Brazil, Ireland, Italy and the Czech Republic.
Gene London will host a fashion show with models twice daily in Boscov's Auditorium where he'll reminisce about the early days of Hollywood and share behind-the-scenes secrets of the stars and the designers who gave them their "look," which defined the essence of glamour during Hollywood's Golden Age.
The exhibit will open on Saturday, October 22, and Gene will host his fashion shows in Boscov's Auditorium beginning Sunday, October 23 through Saturday, October 29, 2016, with two shows daily. Both the exhibit and the shows are free and open to the public during mall and store hours.