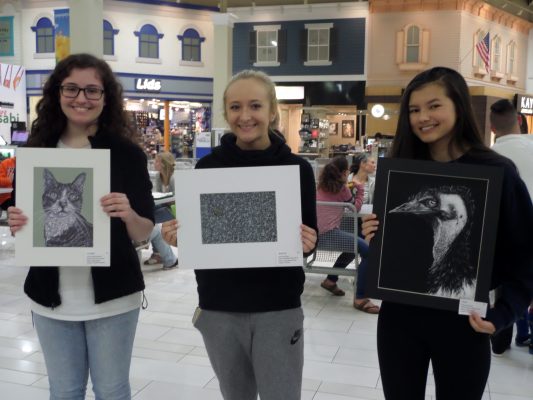 Sangertown Square hosted its 2nd annual Art Exhibit featuring students from eight local high schools on Monday, May 22nd from 5pm – 7pm.
Artwork was displayed throughout Center Court and Auntie Anne's provided pretzel samples during the Art Exhibit. Over 20 local high school students from Brookfield, Clinton, Holland Patent, Oriskany, Poland, Rome Free Academy, Vernon-Verona- Sherrill, and Whitesboro were showcased.
The community was invited to view the exhibit and vote for their favorites in seven categories, including, Drawing, Painting, Scratch-Board, Graphic Illustration, Photography, Sculpture, and Overall Favorite. Prizes were given away to the top 3 winners in the Overall Favorite category. First place was Isabella Madeira from Rome Free Academy, second place was Jess Crane from Whitesboro High School, and third place was Kim Blum from Clinton High School.
Notable winners in the additional categories include:
Sydney Comstock from Poland Central School – Drawing
Marlo Femia from Whitesboro High School – Painting
Kim Blum from Clinton High School – Scratch-Board
Isabella Madeira from Rome Free Academy – Graphic Illustration
Dustin Miller from Vernon- Verona – Sherrill – Photography
Jenna Schlick from Oriskany Central School – Sculpture
Sangertown Square, a Pyramid Management Group, LLC property is proud to support the talent in the local schools and looks forward to hosting the Art Exhibit again next year.