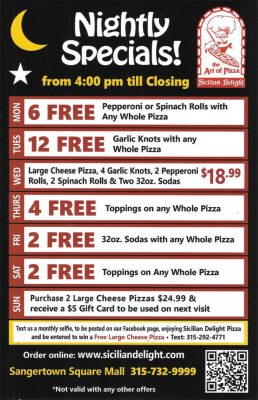 Sicilian Delight has nightly specials starting at 4pm every night!
Mondays: 6 Free Pepperoni or Spinach Rolls with any Whole Pizza
Tuesday: 12 Free Garlic Knots with any Whole Pizza
Wednesday: Large Cheese Pizza, 4 Garlic Knots, 2 Pepperoni Rolls, 2 Spinach Rolls, & Two 32oz. Sodas $18.99
Thursday: 4 Free Topping on any Whole Pizza
Friday: 2 Free 32oz. Sodas with any Whole Pizza
Saturday: 2 Free Toppings on an Whole Pizza
Sunday: Purchase 2 Large Cheese Pizzas $24.99 & Receive a $5 Gift Card to be used on your next visit.