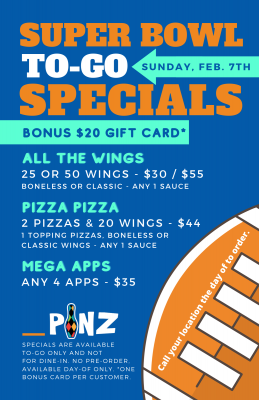 Bring PiNZ home with you and watch the big game. Plus, receive a $20 gift card with your To-Go Specials order.
Specials:
All the Wings – 25 or 50 wings $35/$55
Boneless or Classic – Any 1 Sauce
Pizza Pizza – 2 Pizzas and 20 Wings $44
1 Topping Pizzas, Boneless or Classic Wings – Any 1 Sauce
Mega Apps – Any 4 Apps $35
Call 315.737.4100 to place your order on February 7th.
Specials are available to-go only. No pre-order, Available day of only. One bonus gift card per customer.