Need to plan something special for Valentine's Day but don't know what to do? No worries, I can help! Here are 2 options, plus you can find everything here at Sangertown Square!
1. Celebrate at Home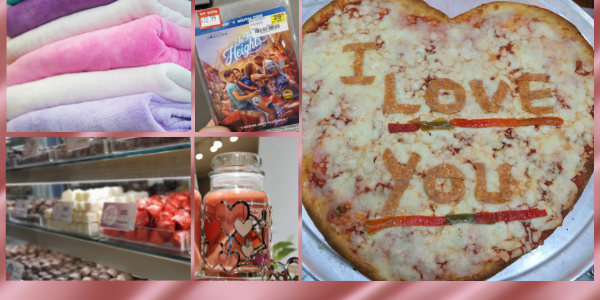 A cozy night at home might be just what your Valentine wants. Here's what you need to make it special. Order a heart shaped pizza from Sicilian Delight. Before you pick it up, stop by Homegoods and pick up a new cozy blanket to cuddle under. Then swing by FYE and pick up a movie or 2 for you to watch. If you're looking for a sweet love story, I recommend "The Notebook" or if you're looking more for a rom-com, I suggest "How to Lose a Guy in 10 Days". After that stop into Boscov's and head over to the candy counter. Pick up some of your loved ones favorite chocolates, and don't forget a few pieces for you as well! You will need dessert after you finish your pizza! Then make sure you stop at Yankee Candle and pick up a candle for your valentine. You can have it personalized with a picture of the 2 of you within minutes. It can be part of your gift plus, you can burn it while you relax and cuddle up during your movie night at home. Once you have that, pick up your heart shaped pizza and head home to create a relaxing night at home with your Valentine.
2. Celebrate with a Night Out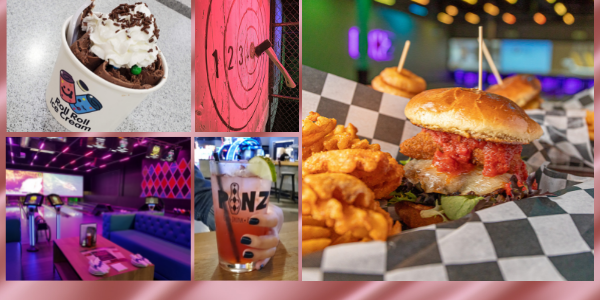 Always at home? Treat your valentine to a fun night out on the town! Try something different and reserve Ax Throwing at PiNZ. Prior to your reservation head over early and enjoy a delicious dinner. After you're done with a friendly competition in the Ax Throwing bays head over to the bowling lanes and and enjoy a round of bowling and follow that up with some arcade games. Don't forget to hop in the photobooth and take some photos to remember your night! Wait your night isn't over, you still need dessert! Head over to Roll Roll Ice Cream where you can either choose a classic dish or create your own dish. If you're keeping things classic, I recommend the Strawberry Sweetie for your valentine.
Obviously you don't have to follow these options completely, you can mix them up or just use part of the suggestions to fit your budget or go all out. Either way Valentine's Day is meant to celebrate your love for each other. However you choose to do so I hope you enjoy! Happy Valentine's Day!