Birthdays are a big thing for most and Sangertown Square wants to help you celebrate your birthday in style! Treat yourself to a fun and fabulous birthday celebration at several venues throughout Sangertown Square. Invite your friends and family and let us do the rest!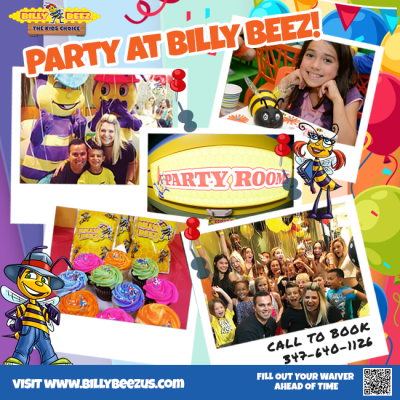 Enjoy a buzz worthy birthday party at Billy Beez! Recognized for it's one-of-a-kind birthday celebration you're party is sure to be all the BUZZ! Choose from one of four award-winning packages which includes anywhere from 90-120 minutes of catered or non-catered customizable add-on options. Your upcoming celebration will truly WOW all of your party guests! Questions about hosting a party at Billy Beez or if you would like to book your party please  call 347-640-1126.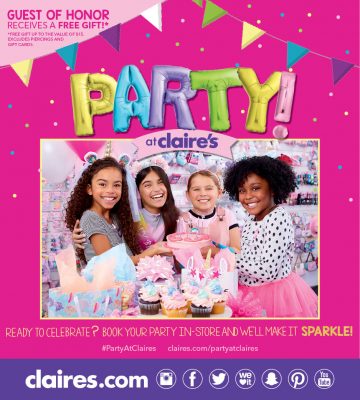 If your little fashionista is looking for a fun unique party, call Claire's! You're guests are going to love the added sparkle they are sure to add. Plus the guest of honor will receive a FREE Gift! Call the store for more details.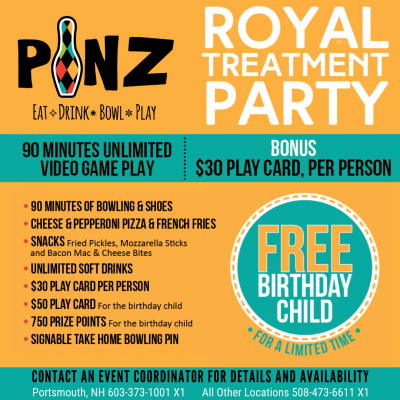 Looking for clean safe birthday fun? PiNZ offers various food, games, and bowling party packages. Call 508-473-6611 ext. 1 and let PiNZ take care of everything for your birthday celebration! Plus, for a limited time the Birthday Child is FREE with the Royal Treatment Party package.
Birthday Freebies and Deals
American Eagle – 15% off coupon – Sign up for RealRewards
Auntie Anne's – Free Gift – Download the app
The Children's Place – 20% off coupon – Join My Place Rewards
DSW – $5 coupon – Sign up for DSW VIP
Famous Footwear – $5 coupon – Join Famously You Rewards
Hollister – Birthday Surprise – Join Club Cali
Hot Topic – Birthday Coupon – Join the Hot Topic Guest List
Subway – Free drink and chips or cookies – Join Subway My Way Rewards
Victoria's Secret – Free gift – Apply for the Victoria's Secret Credit Card